Thank god its Friday, can I get an amen ladies?..LOL
Winter has hit hard this week and I'm just glad I got to stay inside in the warmth and scrap...
Us ladies over at Stuck On U Sketches are having our die cut reveal today and this time we chose a theme instead of a cut.. Our theme for this week is
"WINTER FUN!"..
you can interpret it in anyway you wish and this challenge is always open to all projects..so, please share them with us, we want to see what you can create.. Just click the link at the bottom of my post and you will be re-directed to Stuck On U Sketches..
aaaaand we have a sponsor for this month.. Its Stephanie from Whimsical Designs and she is sponsoring her stamp collection.. You can check that out by clicking her button below: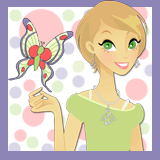 But before I forget, here is my take on this weeks die cut challenge:
The layout is of my son Aaron when he was just a young guy who liked to play ice hockey a the ice field that the city sets up every winter just behind our house. I was lucky enough to get a few photos of him.. My camera back then wasn't anything to brag about, that's for sure..LOL
and for a few close ups:
I embossed the little steam swirls with the Victoria embossing folder.
I cut the scarf from the winter woodland cart, I actually cut the scarf in two pieces, tucking the ends under the photo mat making it look like its wrapped around it.. clever I think...LOL
the mittens and cup of hot chocolate that I'm sure my son had once he came back in from the cold all rosey cheeked, I miss those days :(
alrighty and as for the list of supplies I used to create this layout:
Cricut Design Studio Software for the design of the layout
Cricut Imagine
Cricut Imagine Cartridge:
Lori's Garden for the paper prints and color palette
*all of the colors and background prints on this layout have been printed on white cardstock using the imagine cartridge Lori's Garden!
Cricut cartridges:
George and Basic Shapes: photo mat
Winter Woodland: Mittens, scarf and large snowflakes
Christmas Cheer: Mug
Pooh and Friends: Hat
Winter Frolic: Title "Baby, its cold outside!"
cardstock: White
Cuttlebug
Victoria Embossing folder
Ranger distress ink: Vintage photo
white gel pen
prima E-line pearl halves
white Liquid pearl.
pop dots
edge distresser
black marker
Well my fellow scrappers.. That about does it again for me for this Friday...
Hope you get a chance to stop by
Stuck On U Sketches
and check out what our amazing DT have been up to.. They really are an awesomely talented bunch of crafters..