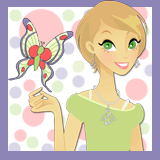 I have some awesome news for you...
I've rejoined the Design Team at
WHIMSICAL WEDNESDAYS
and were picking up from where we left off starting on January 16th!
You are going to LOVE the new Design Team and fun challenges that Stephanie has lined up, so stop by my blog or
whimsical Designs
to see the new Design Team line-up.
But for now, come check out Whimsical designs and Stephanie has a great give away..
So, make sure you come stop by on January 16th at Whimsical Wednesdays for some fun!
hugs